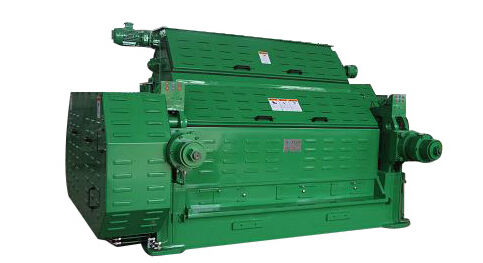 Conditioned oilseeds are conveyed to the Oilseed Flaking Machine, a machine which ruptures the cell tissue of the seeds and increases the surface area for oil extraction. The flaking process is the essence of the oil extraction plant. Kernels entering the machine are first pressed into 0.3 millimeter flakes to generate maximum extraction rates—with oil residues produced at a rate of less than 1 percent. Wintone's flaking mills are designed for safety and reliability. The scraper is manufactured for precision to ensure continuous operation with fewer stuck flakes.

The seed flaking process is a vital part of seed processing. It mostly takes place after the the seeds are cleaned and cracked. they are rolled into flakes are are used for expelling of oil with machines known as oil expellers. Earlier, five high roller mills were used for the process of flaking seeds. The need and demand for high capacity and hydraulically operated Seed Flaking machines has risen tremendously since then. These type of equipment is highly important for various purposes like oil seed pre-treatment, hydraulic operation, automatic control of feed gate, and roll engagement through level sensor.

Before the process of oil expelling or solvent extraction, flaking of the seeds is equally important as is the process of cleaning them. For this purpose, Seed Flakers are used. Every equipment consists of rolls that are fitted on self aligning roller bearings with driven motors. To prevent the unflaked material from bypassing the ends of the rolls, most oilseed flaking machines have a metal plate that is shaped exactly as per the contours of the rolls. These are also located above the roll end surface so as to ensure that no unwanted material get under. Hydraulic device prevents the rolls from impacting when the stock in interrupted, which ensures that no damage is done to the rolls. The maintenance of the rolls are highly important for the long life of the oilseed flaker.

Every oilseed flaker machine also consists of scrapers that cleans the rolls. Scrapers basically play a very important role in the flaking process. The scrapers are either made of stainless steel or aluminium and are located under the rolls so that the scraped products are directed down the hopper after they are removed from the rolls.
Oilseed Flaking Machine Main Technocal Data:
| | | | | |
| --- | --- | --- | --- | --- |
| Model | Capacity (KG/H) | Power (KW) | Net Weight (KG) | Packing(MM) |
| YYPT4×40×80 | 30-35t/d | 22kw | 4900kg | 1535×1358×1820 |
| YYPT4×50×80 | 40t/d | 30kw | 7500kg | 1680×1700×1900 |
| YYPT2×60×100 | 80t/d | 2*30kw | 4400kg | 1940×1250×1530 |
| YYPY2×60×125 | 150t/d | 2*45kw | 5200kg | 2140×1550×1730 |
If you are intersted in our oilseed flaker, please feel free to contact us.