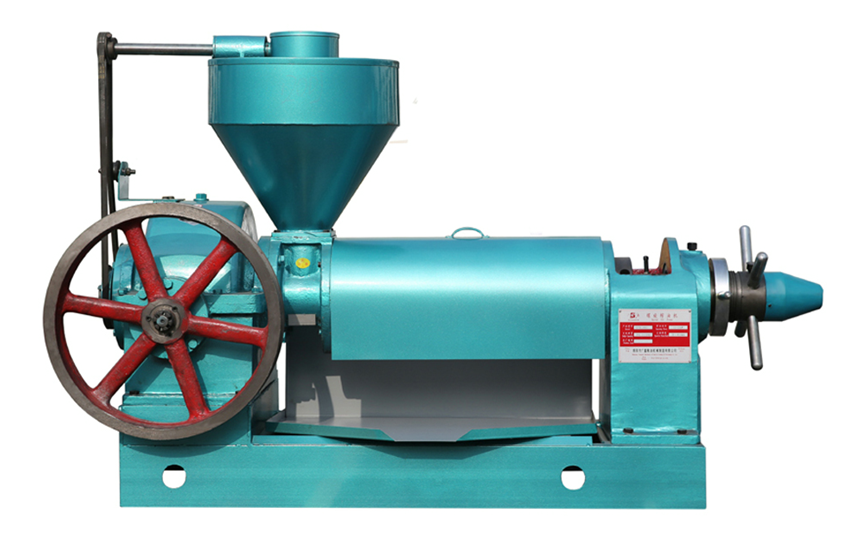 YZYX120DJ series low noise screw oil press are suitable for pressing rapeseed, cottonseed, soybean, peanut, Hu Mazi, Tung seed, sunflower seeds, palm kernel etc. There are advantages of small investment, high oil yield, low noise and low residual oil in cake, which is the best choice for medium and small oil production company.
YZYX120DJ series low noise screw oil press has the technology innovation as: the grarbox adopts high precision hypoid gear with single reduction for driving, the axis is offset, beam supported at both ends, increase the stiffness of small wheel and increase the contact area to make the supporting capacity of gearbox stronger, smooth transmission, simple structure, high efficiency and energy saving, so that to greatly reduce the noise (≤72dB). This innovation can solve the problem big noise for traditional gear box and extend the service life. This product has obtained the national patent (patent number ZL 201420256527.6).
YZYX120DJ is a basic type two-step oil press.
YZYX120DJ-8 is 3-step oil press which has bigger pressure in chamber and squeezing effect is better.
YZYX120DJ-J-12 is new 3-step oil press with lower residual oil in cake.
YZYX120DJ-J is a high performance press machine which has more pressing force, lower residual oil in cake (can be below 5.5%).
YZYX120DJ-YD is mobile oil press with roller device, which is suitable for user who ask smaller work place.

If the above types of press machine with heating device, the model No followed by the letter "WK".
Main Features:

Below features are based on oil plants with above average quality smoothly and continuously squeezed after good pretreatments, such as screening, husking, flaking and cooking, etc.
Oil Plants


Processing Capacity (t/24h)

Oil content of

Dry cakes (%)

Oil yield Efficiency (%)

Electricity

Consumption (k.W.h/t)

Rapeseed

≥6.5

≤7.6

≥82

≤34

Cotton seeds

≥6.5

≤6.8

≥77

≤54

Soybean

≥5.5

≤6.5

≥67

≤51

Peanut

≥6.5

≤6.5

≥92.3

≤34
Note:
① It is normal that sometimes the actual results may be a little different from those in the index, for the oil plant's type, quality and original content may be different in different areas.
② The day capacity (t/24h) is based on using hot way to squeeze one time. The more the squeeze times are, the lower the date capacity is.
Technical Specification:
ITEMS

YZYX120DJ (-8,-9)

YZYX120DJ-J (-12)

YZYX120DJ-8YD

Revolving speed

of spiral axis (r/min)

32-43

Drive type

Triangle belt

Power required(KW)

11 or 15 (6 poles)

Measurement (mm)

1900*800*1300

2120*800*1300

Weight (kg)

860

920
Note:
This weight is without electro-motor's weight.