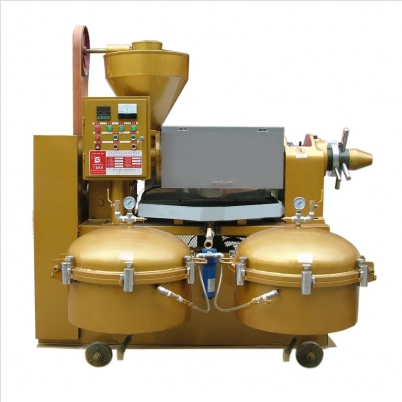 Oil Pressing Machine the material into the cutting chamber after the oil pressing machine squeeze screw thread rotation, the gradual feeding end to the direction of the cake to push forward. As the diameter of the oil pressing machine screw thread from small to large changes, so that the volume of each chamber gradually reduced; and because of the oil pressing machine thread continuously push the material embryo into the press chamber, so before the push after pushing the product pressure, Embryo, squeeze the oil out.
At the same time adjust the cake gap to change the thickness of the cake, the smaller the gap, the thinner the cake, press the pressure inside the chamber. In addition, the material embryo in the press chamber was motion state, resulting in material embryo and strip, garden row, material embryo and squeeze snail, between the embryo and material embryo friction, and produce a lot of heat, so that the embryo in the press The temperature rise so that there is a good embryo oil outflow, improve the oil rate. Before the embryo must be subjected to the pretreatment process, the pretreatment quality will directly affect the normal working and oiling rate of the oil pressing machine.
Different oil materials have different pretreatment process requirements, including the following:
1. Clean up. The oil entering the processing plant contains certain impurities (sediment, stone, iron, etc.). If it is not carefully cleaned, it will accelerate the wear of the internal parts of the oil pressing machine, reduce the oil rate and even cause the fault and the accident. And its supporting equipment are: clean screen, to stone machine, magnetic separator, and so on
2. Peeled. For the shell with the oil, should be peeled and then pressed, this can improve the oil pressing machine production capacity and oil rate. With its supporting equipment are: shelling machine, separation sieve, separation machines and so on.
3. broken. Some oil can be a whole into the press, but after the broken, rolling embryo and then squeeze, can significantly improve the oil rate. And its supporting equipment are: crusher, rolling embryo machine and so on.
4. Stir fry. Steaming is to improve the oil rate is an important part of the commonly used method is to first wet the oil, and then dried by the wok, so that the oil process to achieve the requirements of the water and temperature, with its supporting equipment: Seed pot.